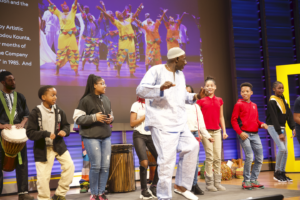 Educational Programs
1) Visit Africa Performance
KanKouran West African Dance Company was established as an instructional institution designed to preserve the traditional cultural arts of the Senegambia Region. The "Visit Africa" program dazzles audiences with its exciting and electrifying dances and rhythms that reflect various cultural traditions that relate to the history and culture of West Africa. The objectives of, "Visit Africa," include the following:
Increase students' understanding of African cultural traditions

Explore ways of stimulating students' non-verbal means of communication

Give students an introduction to the history, language and techniques of African dance and drumming

Expose students to traditional African musical instruments
2) Visit Africa Residency
"Experience Africa" will integrate arts into the curriculum by utilizing movement, area studies, art, history, geography, singing, writing, and various means of creative expression as its tools for implementing the program.
Cultural Programs
KanKouran's repertoire is a brilliant reflection of the excellence in artistry and performance that is so widely associated with the Company. Artistic Director, Assane Konte, has met the great challenge of adapting traditional African dancing and drumming in a Western performance context; communicating the rich and complex history and culture of West Africa with the technical prowess, energy and grace that entertains and moves audiences everywhere. The overwhelming majority of the dances/rhythms performed are from Senegal, Guinea, Gambia and Mali, with works set to the most prevalent percussion orchestras used in those regions: Djembe, Kutiro, and Sabar.
Contact us today to schedule KanKouran for your next Educational or Cultural Program.