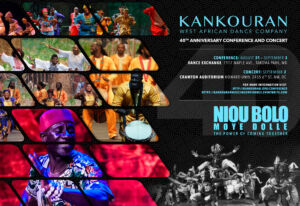 On behalf of Assane Konte and the entire KanKouran family, we would like to sincerely thank all of you who came to Washington, DC, and celebrated our 40th Anniversary Conference and Concert with us. It was truly a memorable occasion and we want you to know that we appreciate each one of you!
To all of our guest artists, we would like to send you a special thanks for supporting us all these years. You are the reason our conference continues to lead the way in bringing together the best teachers, best dancers, best drummers, and best participants together each year. We would like to thank Mabiba Baegne, Fode Bangoura, Mariama Basse, Marie Basse-Wiles, Fode Camara, Mouminatou Camara, Idy Ciss, Abdoulaye Diop, Naomi Diouf, Madiou Diouf, Ibrahima Diouf, Alioune Faye, Elhadji M'Bour Faye, Medoune Yacine Gueye, Brehim "Brigo" Gueye, Youssouf Koumbassa, Ishmael Kouyate, Papa Assane M'Baye, Babacar M'Baye, Cheikh N'Dong, Djeneba Sako, Maguette Sow, Balla Sy, and Aboubacar Soumah. 
We would also like to thank all of you who came from Seattle, New York, Atlanta, and Chicago to share your energy with us on stage at this year's concert: Afua Kouyaté, Nailah Bulley, Chisula Chambers, Komala Sylla, Valencia Lake, Dr. Terence Lake, Brenda Malika Moore, Toni 'Aluna Hector, Andrea Najwii Vinson, Dr. Ramatu Afegbua Sabbatt, Aisha Mahmud, Melissa Beverly, Suquan Diop, Melissa Beverly, Shatina Edwards, Fatouseck Primus, Omoisegun "Se" Naida, Shaunta Peebles, Imania Fatima Detry, Alison Camara, Ntifafa Tete-Rosenthal, Mayah Walker-Taylor Mbaye, Alexa Menuau, Zalika Reid, Dr. Adama Jewel Jackson, Karisma Jay, Dr. Diandra Renée Gordon, Esq., Candice Igeleke, and Kudara Kaneh.
We would like to sincerely thank the faculty and students of Howard University that have been a part of our conference team for the last 22 years: Dr. Sherrill Berryman Johnson, Denise Saunders, Chris Alexander, Tamiea Anderson, Dominique Atwood, Erin Barnett, Brianna Beard, Siani Beckett, Keishonna Belcher, Aisha Benjamin, Lindsey Renea Benton, Michael Bradford, Denise Brown, Harmony Brown, Trey Capers, Sydnee Carroll, Destiny Casson, Kiana Chase-Mercer, Alex Clark, Gillian Clifford, Brianna Cole, Trashina Conner, Leanna Cotton,  Trinity Cox, Aliyah Crawford, Jamia Croft, Stephanie Demby, Zanyah Dorfeuille, Lailah Duke, Dierdre Dunkin, Kiana Ebone, Jessica Ellis Ford, Raechelle Ellison, Yasmeen Enahora, Ashleigh Fields, Kayah Franklin, Erica Franks, Jevettra Gardner, Shari Gardner, Shannon Grayson, Jordin Greene, Jaleesa Greenly, Makeda Griffith, Otis Donovan Herring, Destiny Hill, Alijah Hitt, Alyssa Holmes, Ilyana Hughes, Whitney Hunter, Saidiya Imari, Aminah Jackson, Alyse Johnson, Naomi Johnson, Nikia Jackson, Matia Johnson, Alexus Jones, Tere Jones, Thea Jones, Paris Jones, Terelyn Jones, Craig Kirby, Tanasia Lane, Jamyra Lasalle, Rayven Leak, Breanna Makonnen, Crystal Malone, Nia Mapp, Shoccara Marcus, Brynne Matthews, Andre McKamey, Jordan McKnight, Charity Metzger, Princess Mhoon, Skye Minors, Tashayla Montgomery, Ayisha Morgan-Lee, Samya Mosley, Alexandra Nix, William Oaks IV, Ariarna Odom, Charise Pinkston, Jessica Potts, Q, Tiffany Quinn, Kennedy Raynor, Leilah Reese, Christen Reyes, William Roberson, Shola Roberts, Annique Roberts, Domenique Ross, Reya Roussel, Danielle Ruth, Corrine Scott, Renee Settle, Jaleesa Sharp, Lynet' Shigg, Rohiatou Siby, James Smith, Vicqueria Smith, Ja'Lynn Steen, Nabowire Stokes, LauraBethany Strong, Laurie Taylor, April Thomas, Chloe Thomas, Raeshell Thompson, Jennelye Todman, Brianna Ursery, Roxi Victorian, Jasmine Wade, Imani Wafer, Jacqueline Washington, Antoinette West, Christen Williams, LaJuan Williams, Riche Williams, Jaykayla Winford, Geneva White, and Professor Royce Zackery.  
We would like to send our deepest gratitude to our donors and long time supporters: Duane Pettus and Family, Oronde Sharif, Oso Tayari Casel and Nitanju Casel, Arthur Coe and Lakita Stukes, Margaret Davis, Jeri Green, Dinah Reese, Mrs. Bettie Robinson Gibbs, and Dr. Kinaya Sakoya Ya Olubayo.
Last, but certainly not least, we would like to thank KanKouran's Senior Company Dancers and Drummers for an amazing performance!!! In addition, our sincerest gratitude and appreciation goes out to all the people who carry this organization throughout our day-to-day programs and activities: Sue Ann Forde – Assistant Artistic Director; Anderson Padmore – Rehearsal Director; Eurica Huggins – Public Relations; Tanya Murry and Kevin Waller – Administrative Assistance; Class Instructors – Sue Ann Forde, Veronica Hunte, Roy Horton; and The Community Class Team – Ginea Briggs, Travis Deberry, Darryl McDuffie, and Tanya Murray. We also have to thank those who worked behind the scenes to help make our 40th Anniversary Conference and Concert a huge success: Maya G. and Diandra Gordon – Conference Logistics and Technical Support; Royce Zackery, Denise Saunders, and the Howard University Dance Department; David Dowling – Concert Videography; and Lawrence Green – Concert Photography.
Supplement cutting video, cutting stack bodybuilding injectable steroids buy bodybuilding basics
 KANKOURAN'S 40TH ANNIVERSARY CONFERENCE AND CONCERT WAS SUPPORTED IN PART BY THE D.C. COMMISSION ON THE ARTS AND HUMANITIES (AN AGENCY SUPPORTED IN PART BY THE NATIONAL ENDOWMENT FOR THE ARTS), THE DISTRICT OF COLUMBIA MAYOR'S OFFICE ON AFRICAN AFFAIRS, THE INTERNATIONAL ASSOCIATION OF BLACKS IN DANCE, THE MELLON FOUNDATION, THE MAX AND VICTORIA DREYFUS FOUNDATION, HOWARD UNIVERSITY'S CHADWICK A. BOSEMAN COLLEGE OF FINE ARTS, AND WHUT-HOWARD UNIVERSITY TELEVISION