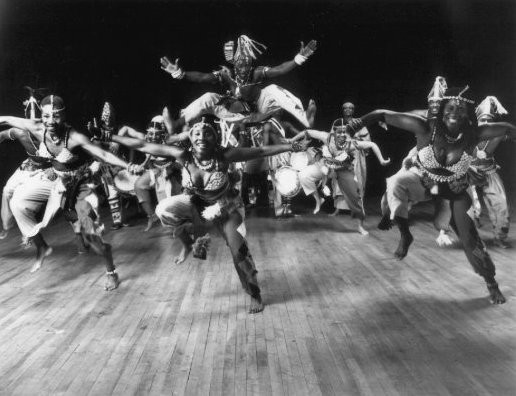 KanKouran was formed in 1983, in Washington, DC, by Artistic Director Assane Konte and former Director of Music, Abdou Kounta, who grew up together in Dakar, Senegal. After many months of recruiting, training and performing at local venues, the Company presented its first full-length concert, "A Visit to Africa" in 1985.  And with that performance, an institution was born. Although many dancers and drummers have come and gone, to this day KanKouran continues under the leadership of its co-founder/Artistic Director, Assane Konte.
KanKouran is home to three performing companies: the Senior, Junior, and Children's groups. The company, whose members were born in the United States, Africa and the Caribbean, is dedicated to preserving and sharing the culture of Africa. KanKouran has established itself as an organization offering a wide range of educational and cultural programs. KanKouran functions much like a traditional African community, where given the communal nature of African culture, each individual understands his or her role in maintaining the oneness of the community to the benefit of the entire community, and each individual is encouraged to contribute and participate to the extent of that person's talents and abilities. As a result, due to the all-inclusive nature of the company, KanKouran appeals to a wide range of audiences of various ages, races, and socio-economic backgrounds.
The company's outstanding reputation has spawned numerous alliances/collaborations with organizations and institutions  throughout the United States and abroad. On the local and national levels, these include: The John F. Kennedy Center for the Performing Arts, Smithsonian Institution, National Symphony Orchestra, Lincoln Center, Brooklyn Academy of Music, California Center for the Arts, Howard University, Model Secondary School for the Arts at Gallaudet University, American University, George Mason University, University of Pittsburgh, and Virginia Technical Institute. On an international level: Silesian Dance Theater and the Dance Festival Krakow in Poland; Maui Dance Council, Hawaii; Japan Cultural Arts Center, Tokyo; the Island Center for the Performing Arts, St. Croix; as well as the Emancipation Day Committee of Trinidad and Tobago.
The Company's success is perhaps best judged by its longevity and by the large number of company and community members who are involved in diverse academic, professional, and entrepreneurial pursuits, and who credit KanKouran with instilling within them the discipline, pride, and commitment to self and community which have made their life pursuits meaningful as well as successful.