SAVE THE DATES: SEPTEMBER 4-6, 2020
KANKOURAN WILL PRESENT ITS 37TH ANNUAL CONFERENCE:
"MOVING FORWARD WITH HOPE AND STRENGTH"
We are living in a very challenging and stressful time, but we will get through this. We realize that dance provides us all an opportunity to reconnect with friends, family, and community. It provides us hope and strength as we move forward in an effort to navigate this unprecedented time in all our lives. African dance, and the rhythms that accompany it, reminds us of our ability to persevere, to withstand, and to outlast any hardships we confront. We have always sang and danced our way through adversity. Not because we enjoy hardship, but as a way to get through it, to overcome it, and to avoid being consumed by it. So, let's come together and dance once more in the face of difficulty! Let's continue to move forward with Hope and Strength!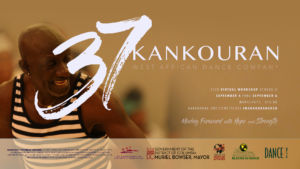 This year's conference will be virtual and presented via zoom. The class schedule and registration information will be coming soon. Thank you, and as always, we look forward to seeing you on the dance floor!