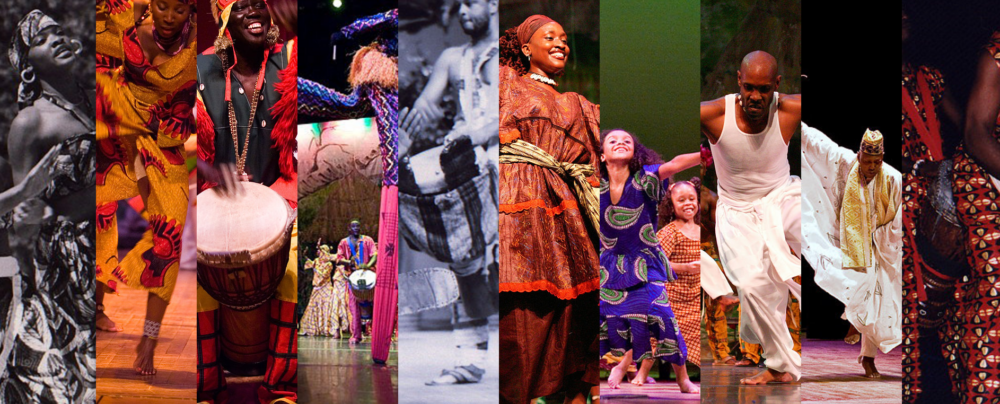 KanKouran offers classes for children, teens and adults in the authentic dance and drumming styles of select West African cultural groups.  An aerobic activity, dance classes include a warm-up and breakdown of dance steps, followed by choreographed routines accompanied by the drums.
Drum classes teach polyrhythmic concepts of African drumming and choreographed orchestral techniques to accompany the dance movements.
Classes are ongoing so you are welcome to drop in any time. There is no pre-registration necessary.
KanKouran classes are currently being held at the Dance Exchange in Takoma Park, MD. For more information about our weekly community classes and updates, please visit www.facebook.com/kankouran.
SCHEDULE
Wednesdays, 7:30 pm – 9:00 pm | Adult Dance
Saturdays, 12:00 pm – 1:00 pm | Children's Dance/Drum. Enjoy Nana's nook for storytelling, followed by dance and drum.
Saturdays, 1:00 pm – 2:30 pm | Adult Dance
CLASS FEES
Adult Dance – $15
Class cards – $135 (10 Classes)
Students (w/valid ID) – $12
CLASS CANCELLATIONS/UPDATES
For class cancellations and updates, please visit www.facebook.com/kankouran
KanKouran stands in solidarity with the world as we battle the spread of the coronavirus (COVID-19)! In accordance with local and federal public health directives, we are temporarily suspending all drum and dance classes, until further notice, to encourage physical/social distancing. We appreciate the continued support of the KanKouran family and hope you stay tuned for updates about our operations as things evolve. May good health, wise discernment and joyful spirits sustain us all during this challenging time.
CLASS LOCATION
Dance Exchange
7117 Maple Avenue
Takoma Park, MD 20912
Metro: Red Line to Takoma. Exit Metro station and continue straight on Carroll Ave. At second stop light, take a left on Maple Ave. Dance Exchange is half a block down on your right.
Photography Waiver
By attending KanKouran community classes, you grant KanKouran, its representatives and employees the right to take photographs of you while participating in class. KanKouran may use such photographs with or without your name and for any lawful purpose, including for example such purposes as publicity, illustration, advertising, and Web content.
Thank you!